South Korea effort 2019
South Korea enjoys great international interest in the country and its culture. At the same time Denmark is fast becoming fashionable in South Korea.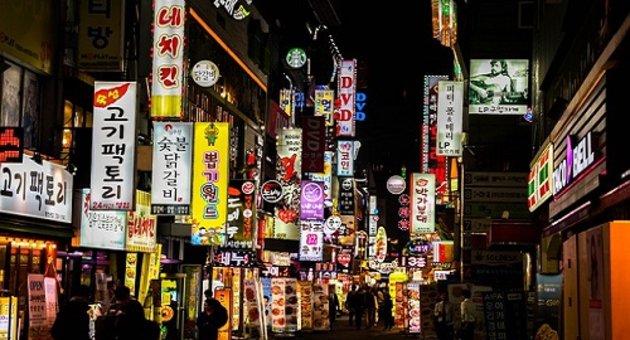 In 2019 Denmark and South Korea is celebrating 60 years with diplomatic relations. It is an ideal opportunity to create a push for Danish culture in South Korea. That is why 2019 has been designated cultural year for Denmark and South Korea.
The blooming Korean Culture
South Korea is a country with a long and rich history, not least cultural history. South Korea has influenced the East Asian region for many ways, while the country itself has been influenced from the outside, most importantly by Buddhism and Confucianism. To this day many traditional festivals are celebrated with traditional dance, attire and music. Side by side modern culture is blossoming; youth in South Korea are big consumers of technology and computer games, while the unique Korean pop music is gaining fans in all corners of the world.
Interest in Denmark
In South Korea there is an increasing interest in Denmark and the Danish values. Not least our lifestyle phenomena such as the ubiquitous "hygge", our flexible workplace organization, education system and high level of welfare spark South Koreans' interest. We will use this momentum to promote Danish art, design and culture.

The projects for the South Korea effort 2019 focus on cementing and broadening relations between actors on the cultural scene. The overall goal of the effort is to secure future knowledge about and interest in Danish arts and culture in South Korea. The projects are varied and together they target a broad audience.

The Agency for Culture and Palaces has the responsibilty for the Danish part of the effort in close cooperation with the Ministry of Foreign Affairs and the Danish embassy in South Korea. This part will primarily unfold in South Korea. The South Korean Ministry of Culture has the responsibility for the South Korean part of the effort. This part will primarily unfold in Denmark.
Read more under Facts

Events in South Korea 2019


Crafts and Design
The Danish Arts Foundation, Committee for Crafts and Design cooperates with:
Spring 2019, Gyeonggi International Ceramic Biennale, "Mentoring Camp" & "Artist Talk".
Autumn 2019, Cheongju International Craft Biennale exhibits Crafted Matter
Visual Arts
May 2019, Modern Museum of Contemporary Art (MMCA) in Seoul, shows the exhibition "Asger Jorn - Alternative Languages"
May 2019, Danish artists' Superflex exhibits "One Two Three Swing!" in the Korean demilitarized zone.
September 2019, Art Sonje Center, Seoul. Group exhibition "iwillmedievalfutureyou1" curated by Jacob Fabricius, Kunsthal Aarhus.
Autumn 2019, Art Sonje Center, Jane Jin Kaisen solo exhibition.
Architecture
(TBC) Autumn 2019, featured Danish content at the Seoul Biennale of Architecture and Urbanism.
Performance Art
July 2019, Teatercentrum (DK) collaboration with Assitej Korea on presenting Danish childrens theatre in Korea at Nami Island and at Assitej Korea Summer Festival 2019 : Sofie Krog Theatre with "DIVA", Batida Theatre Group with "Spaghetti", Theatre BLIK with the show "HOV", Mish Mash Theatre Group with "The Nose"
October 2019, SIDance Festival in Korea focuses at Danish dance and performance
(TBC) Mute Comp. Physical Theatre collaboration with Nahoon Park, Korea
(TBC) HAUT co-produces with Korean dance company Shin Dance Company
(TBC) Odin Theatre (DK) performs at Seoul Performing Arts Festival
(TBC) Moving Stories, Nina Sveistrup (DK) performs in Korea
(TBC) Simone Wierød and Copenhagen Contemporary collaboration with Kim Chi Group in Korea
Music
October 2019, Jarasum International Jazz Festival has focus on Danish Jazz.
October 2019, (TBC) Jarasum International Jazz Festival presents DR Big Band.
Film/Animation
October 2019, Busan International Film Festival (BIFF) Danish focus.
2019, (TBC) Danish animation in South Korea.
Litterature
May 2019, Nami Island, focus on Danish illustrators and Danish children's theatre.
May 2019, Sigongsa Junior Publishing House will publish the Hans Christian Andersen 'Billedbog uden Billeder' (in English - Picture book without Pictures) in Korean in collaboration with Danish illustrator, Lillian Broegger.
June 2019, Danish authors at the Seoul International Book Fair in collaboration with Korean Publishers Association
Museum exhibitions

April 2019, Seoul Museum of History, exhibition about H.C. Andersen in cooperation with Odense City museums.
Continuously updated
Events in Danmark 2019


January 2019, Kunsthal Aarhus exhibits the Korean artist Kim Beom.
August 2019, Passage Festival (DK) presents Korean shows at the festival
September 2019, Viborg Animation Festival South Korea focus.
Continuously updated
Opdateret 12. December 2019
Korea - Denmark 2019 Logo
The two graphic artists Nina Lee Storm from Denmark and Yoo Yoon-Seok from South Korea have created a logo for the cultural year 2019 for Denmark's and South Korea's Ministries of Culture.
Write to int.samarbejde@remove-this.slks.dk for permission and questions regarding the use of the logo, and for other communication material.
The Unit for Architecture, Design and Crafts and International Affairs coordinates the international activitites of the Agency for Culture and Palaces. General enquiries and questions can be directed to int.samarbejde@remove-this.slks.dk